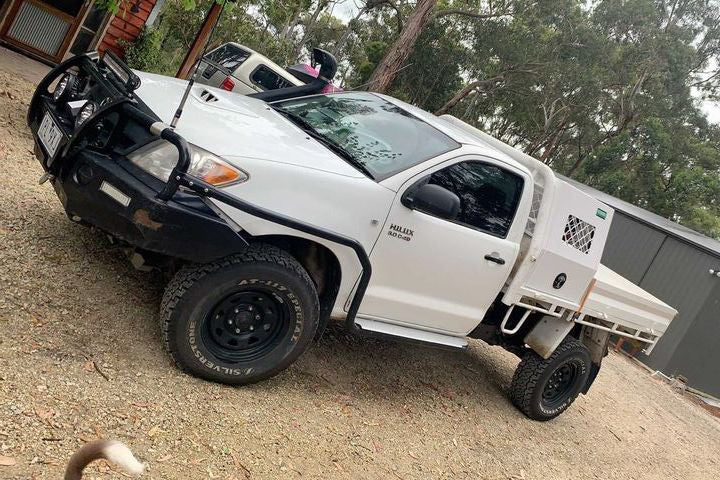 TESTIMONIALS
"I've had an amazing experience with you guys, the half dog box and half dry box is working a treat with my little pup coming on long trips and the dry box to run a fridge for a few cheeky beers when out camping love it"
-Tyler C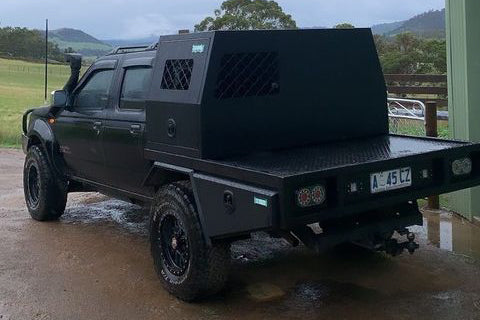 TESTIMONIALS
"Awesome boxes! Exceeded all expectations! Tuff, sturdy and great quality. Great people to deal with 👍"
-Jack W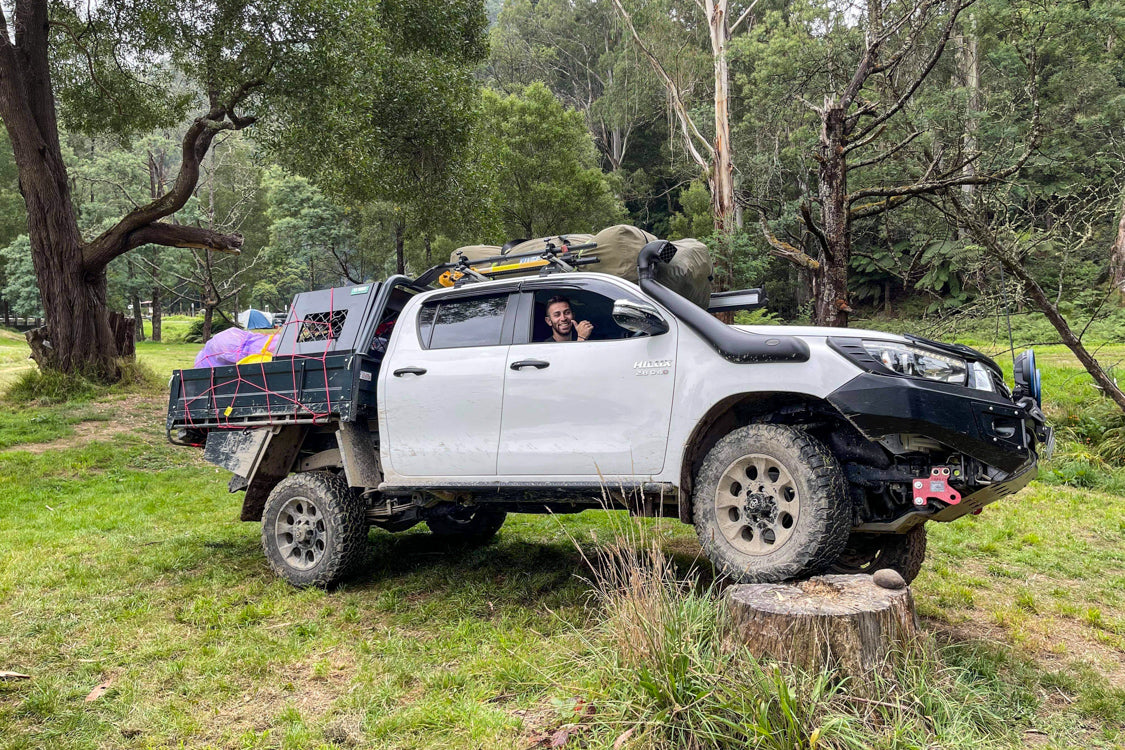 TESTIMONIALS
"Just wanted to say a big thanks for my half dog box canopy and fridge slide, tested them out last long weekend and they were both awesome , absolutely wrapped with the quality!"
-Liam Q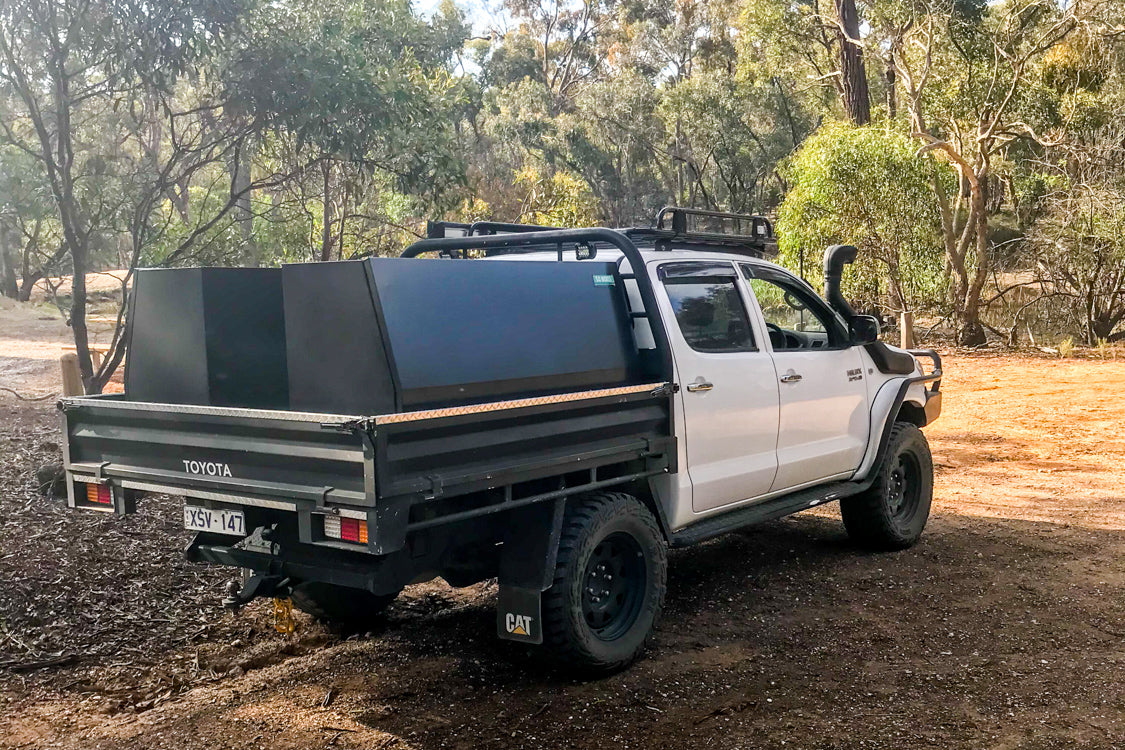 TESTIMONIALS
Purchased my two black tc boxes around a year ago and have never looked back or had any problems! Best quality boxes going around and plenty of storage 👌🏻
-Christopher B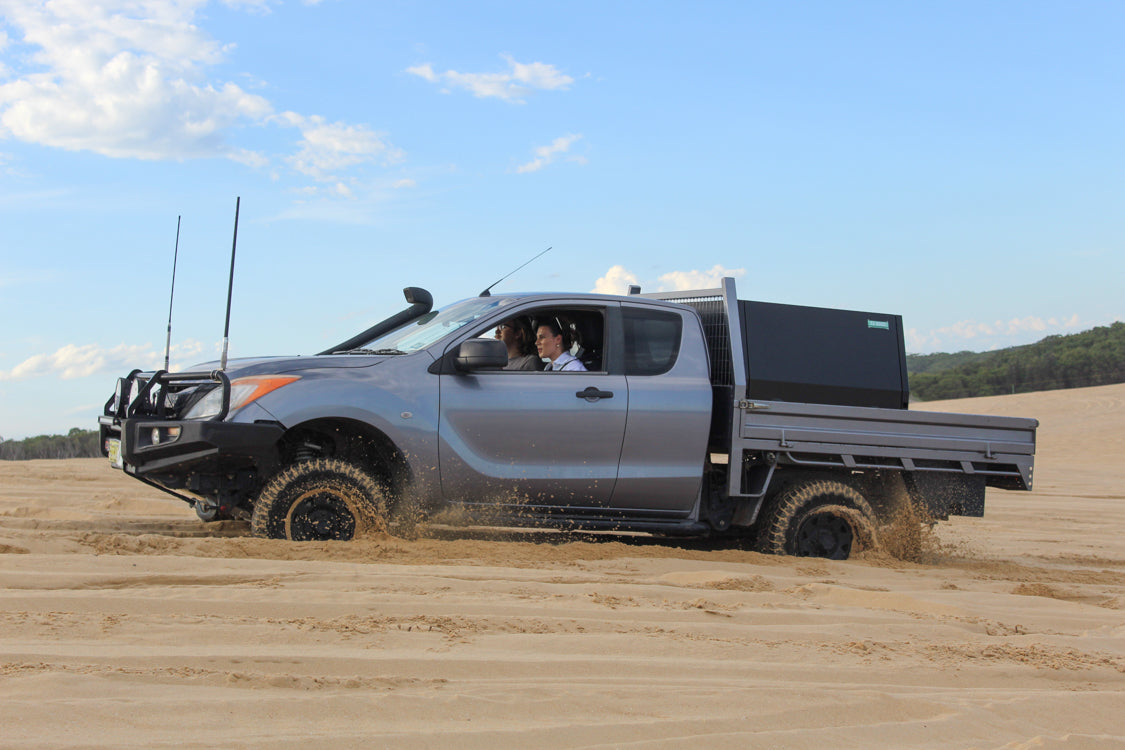 TESTIMONIALS
"I've got the 1200mm canopy and it's been phenomenal. It was very well priced considering how well the box is built. Everyone I show the box too is impressed and it hasn't leaked a drop of water or had any dust ingress. Great service and a great product."
-Maximus C
TESTIMONIALS
"I wanted a strong, long-lasting canopy that I could set up right and have for many cars to come. I did my research and found the reviews and feedback from TC was nothing but positive. I ordered the canopy online and picked it up from the Adelaide freight depot two days later. Since then, the canopy's strength, durability and finish compared to others I have come across is not comparable."
-Maximus C
If you plan to take your dog on a trip in your ute, ensuring they are safe and comfortable during the journey is essential. That's why at T.C Boxes, we provide various storage solutions for different dog sizes, such as:
Dog boxes — With several size options, these dog boxes are made to securely transport dogs when you're on the road.. The "Half Half" options include a dog box and a storage area or toolbox. The boxes are available in 600mm and 800mm sizes and come in different finishes, such as alloy and colours black and white.
Reap the benefits of installing a ute dog box canopy
If you're a dog owner who frequently travels with your furry friend behind your ute, consider installing a dog box canopy. Here are some benefits of doing so:
Protection from the elements — The dog box helps keep your dogs safe and comfortable while travelling,, whether in rain, snow or hot sun.
Increased safety — A canopy can prevent dogs from jumping out of the back of your ute — a common cause of accidents and injuries.
Better organisation — With a designated space for your dogs, you can keep other gear and equipment separate and easy to access. This can be especially useful for hunters, farmers and other professionals who regularly transport dogs and gear.
Increased resale value — Adding a quality canopy to your ute demonstrates that you have taken good care of your vehicle and are serious about transporting your dogs safely and comfortably. This can make your ute more attractive to potential buyers down the road.
Invest in your furry friend's safety with a secure ute dog box
A ute dog box canopy is a secure and comfortable space for your pup to travel in the back of your ute. It can also protect your pet from hazards, accidents, distracting the driver or jumping out of the vehicle (like when they get stimulated by seeing a cat walking by). 
We also understand there's more to help your dog travel safely than just sticking a box on the back of a ute and hoping for the best. It must be durable and withstand the elements while ensuring your dog has a safe and comfortable ride with ample space to move around — that's why all our dog boxes are made from a 3mm aluminium sheet. They also come with premium hardware to ensure there's no chance of pooch getting loose during a ride and with a sleek finish, they look as good as they perform.
Eight years of experience, 24 dog boxes to choose from!
At T.C. Boxes, we've been developing dog boxes to suit the Australian market since 2016. Over the last few years, we've learned a thing or two about what makes great ute dog boxes. We were the first to offer a standard flat plate aluminium dog box and have continued to develop innovations ever since — we're proud of our work! 
Today, we've got 24 different dog box options to choose from. So no matter what type of ute dog boxes you need, we guarantee that we have something for your pet. 
To learn more about our dog boxes' sizing, pricing and specifications, look at the individual product pages below.
Shop online for ute dog boxes and all your ute storage needs at T.C BOXES
Looking for top-notch storage solutions that won't disappoint? Our extensive range includes everything from dog boxes and aluminium toolboxes to ute dog box canopies and caravan boxes. We also stock an exceptional range of accessories that will make the perfect addition to your ute — such as trays, canopies, tool boxes and swags. 
With high-quality products built to last and lots of stock available, we're your one-stop shop for all your ute storage needs. Plus, with in-depth pre- and post-sales customer service, we're always here to help you find the perfect product for your needs. We also offer a 24-month comprehensive warranty so you can buy confidently. And if you're located near our Pakenham workshop, we can even carry out installation for you. 
So why wait? Come on in and pick out the perfect dog box for your ute.
You can shop at one of our locations today or do it online conveniently!
Have questions? Contact us to learn more!
Frequently asked questions
FAQ's
Below are some of the most commonly asked questions we get, if you havent found the answer you need, get in touch.
What is a dog box on a ute?
A dog box is a storage container typically installed on the back of a ute, specifically designed to tour dogs. Dog boxes are made from heavy duty aluminium and are available in multiple sizes and configurations.
Are ute dog boxes safe?

Yes! As tradies ourselves before we started T.C Boxes, we know just how important it is to have our four-legged friends nearby. So, our ute dog boxes have been deliberately designed to ensure your companion has a safe and comfortable ride.
It's important to ensure you've installed it on your ute properly to ensure safety. We also recommend throwing in some blankets and a toy to keep your dog snug and entertained while travelling. It's essential to choose a high-quality dog box designed for your ute and to guarantee that it is securely fastened to your vehicle to prevent it from moving during transit.
What is the width of ute dog boxes?

The width of a ute dog box varies depending on your vehicle's make and model and the dog box's size and configuration. At T.C Boxes, we offer:
Two designs — Full dog box and half/half dog box
Two sizes — 600mm and 800mm
Four finishes — C/Plate, alloy, black and white
Make sure you look at the individual product pages to see their particular specs — that way, you can be sure that you've picked the right dog box to fit your pet.
How long can a dog stay in a box?
The length of time a dog can stay in a box depends on factors like the dog's size, temperature and ventilation and the journey duration. It is essential to ensure that dogs have sufficient room to move around and access water and ventilation during transit.
Why are dog boxes used?
Dog boxes are used to transport dogs safely and securely in a range of different settings, including hunting, farming and outdoor activities. They are designed to protect dogs from the elements, prevent them from escaping or becoming injured during transit and provide a secure and comfortable environment for dogs to travel in.
However, if you're feeling a bit more experimental, you could probably transport most types of pets in there. In a pinch, you could also use them as storage while you're on the go, too, though we'd advise caution — by necessity, dog boxes need to have air holes, so you want to make sure it's not anything that could fly out easily.
How do I install a dog box on my ute?
Installation methods can vary depending on the box type, but most dog boxes for utes can be mounted using bolts or brackets. It's essential to follow the manufacturer's instructions carefully and ensure the box is securely attached to the tray to prevent it from moving or shifting during transport.
How do I choose the right size dog storage box for my ute truck?
The size of the dog box you need will depend on the size and number of dogs you plan to transport. It's essential to choose a large box for your dog to stand up and turn around, but not so large that they can be thrown around during transport. You should also consider your ute's size and ensure the box you choose will fit securely in the bed or on the tray.
Are dog boxes durable?
Absolutely. We rely on aluminium to create our products because it's highly durable while being a fraction of the weight of steel. Rugged, rust-resistant and ideal for a huge range of conditions, we picked aluminium for our dog boxes to ensure they provide the safest ride possible. So, when you settle your pup in for the ride, you can be sure that they will arrive safely at the other end. On top of that, with its rugged construction, you can be sure it will last for years — many happy rides ahead.