Road Chef Big Bertha 12V Oven
297mm L x 362mm W x 255mm H
The Big Bertha 12 Volt Oven is the latest innovative product in the Road Chef range. It takes 12 volt cooking to the next level with 13 Litres of cooking capacity it is nearly twice that of the traditional Road Chef oven and it has two elements. This gives you the choice of cooking with just the TOP element, just the BOTTOM element or BOTH at the same time. It can be tailored to what you are cooking and what your power supply is. Using the top element is great for meals like nachos or bruschetta. For baking scones and biscuits where heat is best coming from the bottom then you can select the relevant setting. Then to turbo boost your 12-volt cooking select both to have them operate together which is ideal for larger meals especially roasts and other meats.
Each element will independently draw 10 Amps / 120 Watts at 12 volts when operating fully. When both are used at the same time, they will draw 20 Amps/ 240 Watts at 12 volts.
The ONLY power option that you must have to power the Big Bertha is via the supplied Anderson Plug.
Other 12 Volt ovens, offer the options of a cigarette lighter or Merit Plug however, these cannot be used for Big Bertha as the wiring is not sufficient. Additional wiring is required, and our recommendation is a minimum of 6mm for a maximum route length of 2m. From 2m to 5m route length we would recommend 8mm2 or greater as if it is used while charging the voltage is higher than 12v.
Features:
304 Stainless Steel
2 x Removable S/S Wire Racks
2 x Heavy Duty Tie Down Brackets
Fully Insulated on 6 Sides
Baking Tray Included
Anderson Plug Connection
12 Month Comprehensive Warranty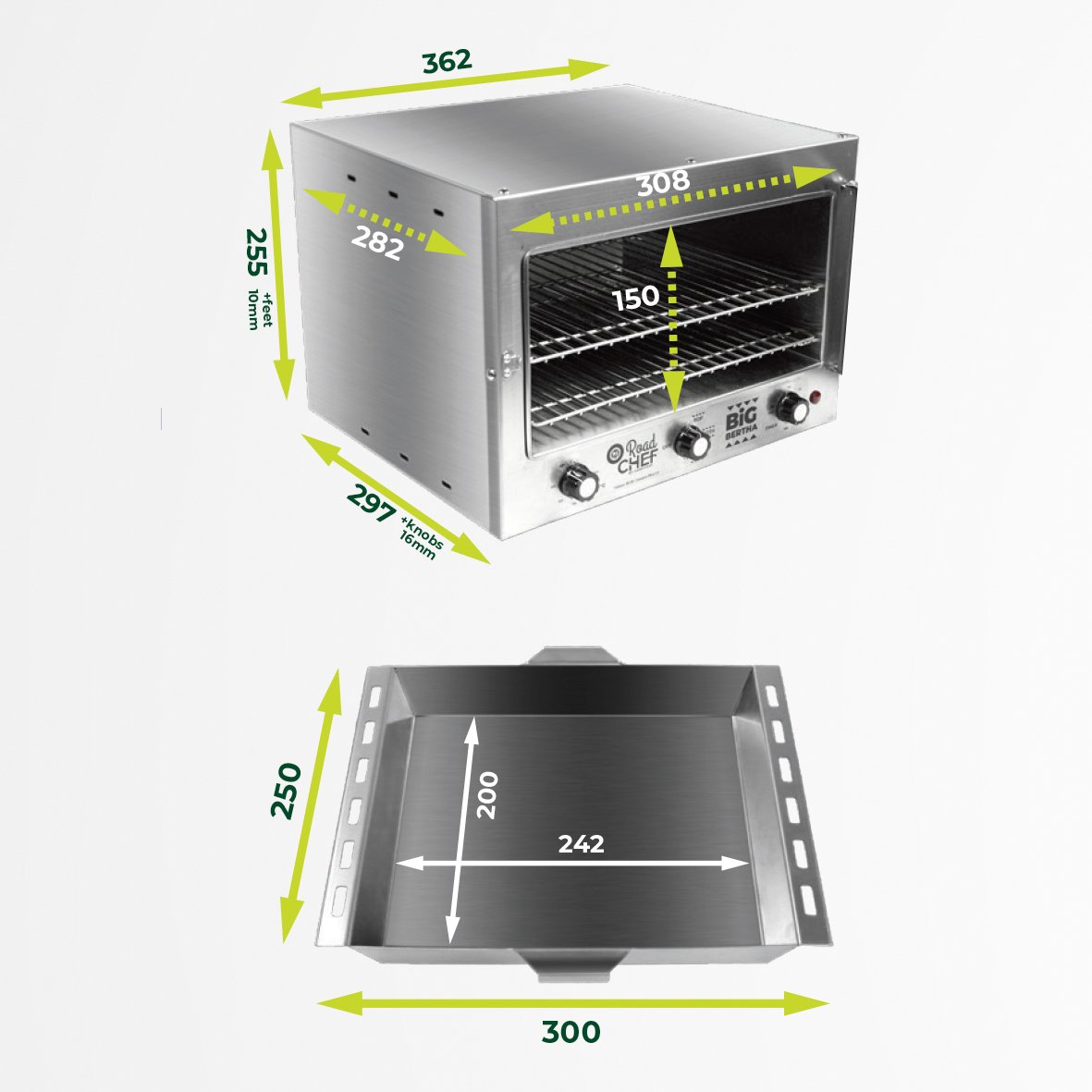 Road Chef 12V Oven
290mm L x 322mm W x 196mm H
Hungry on the road? The days of looking for your nearest fast food restaurant are now over. The Road Chef 12V Oven is the ideal companion for the 4WD tourer, truckie, tradie or camper. Each oven connects directly to your 12V cigarette socket, enabling you to cook a meal while travelling to your next destination. You can now eat pre-packaged meals as you travel.
Each oven is manufactured from marine-grade stainless steel and fully insulated for protection. With a maximum of up to 180 degrees in temperature, the Road Chef is designed with the capabilities of even cooking your favourite roast! Two dials on the front, each for regulating the temperature and time, the Road Chef is ideal for cooking even the most delicate of foods whilst travelling on the road. With included adjustable trays, it's able to be used as required. 
Don't worry about the oven moving about as you travel, each Road Chef includes two tie-down brackets providing the option for a secure oven. We recommend preheating the oven approximately 30min before intended use to reduce cooking times.
Features:
2 x Removable S/S Wire Racks
2 x Heavy Duty Tie Down Brackets
Fully Insulated outer tank
Cigarette, Anderson or Merit Plug Connections
12 Month Comprehensive Warranty
Pre-order
If you select this option, your order will be dispatched within two business days from our warehouse, after the expected arrival date.
Currently, the expected arrival date for the Road Chef 12V Oven is: To Be Confirmed
Is there any difference between Pre-Ordered products and Buy Now products?
Absolutely not, they are identical in every way except Buy Now products are shipped within 2 days.
Please note that all orders are sent in a single shipment.
If you order a Pre-Order item AND a Buy Now item, the full order will be dispatched when the last item is ready for delivery.
Please let us know if you would like your order dispatched in multiple shipments – we will determine the revised shipping cost for you.
Please note with Pre-Ordering we are only able to advise the expected Consignment Date into Australia. The date the goods arrive at our warehouse for dispatch to you is dependent on many factors. If you require delivery by a specific date please inform us in the delivery instructions and we will try our best to meet that date.
Frequently asked questions
FAQ's
Below are some of the most commonly asked questions we get, if you havent found the answer you need, get in touch.
Do we custom make, or alter our boxes?
We do not custom make any toolboxes or canopies and we do not make any custom alterations to our toolboxes or canopies.
Are the boxes powder-coated or painted?
Our Toolboxes and Canopies are powder-coated in UV Stabilised Powder Coat – The two colours are Black Scylla and Horizon White Scylla
How do you fix boxes to the tray?
We always recommend using 4 x M10 Bolts with a minimum 50mm washer to ensure the weight distribution is spread evenly over a greater portion of the material. For our canopies we only recommend bolting the canopies to trays. 
Do you install?
Yes, we offer installation on all our products, Installation quotes are done on a case-by-case basis and will depend on the tray and products. 
Do you have a store near me?
We only have the one Physical location in Pakenham South east Melbourne.